A question that will Provoke Thought and earn many responses is, Is My Blackness Offensive? Is all Fifty Shades Of Brown of it?
Which leads to another question… What "shade" was and was not acceptable the night Lin Mei and her 2 friends were not admitted into Club DSTRK, because they were, "too dark" and "too fat"?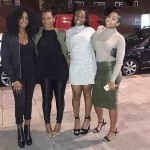 The incident in which two young Black women were turned away at Club DSTRKT's door for allegedly being "too dark" and "too fat".
#DSTRKT, a popular Night Club in the West End of London, that has housed many "A" list celebrities, "has galvanized a strong social media following supported by the hashtag #DoILookDstrkt"
In the video below, Lin Mei, 29, describes the details of the night she witnessed her friends, Reisha and Tasha, asked to stand across the street from DSTRKT so the manager could look at them properly.
The two women were then allegedly told they were "overweight" and "too dark"!
This despite their names potentially being on the guest list
Watch, Share and Comment Your Thoughts below.