The scale of Justice seems to always be off – balance.
From the arrest process to court hearings. Many can argue that they never had a fair – day in court.
Let's face it, America's system of Justice, systematically is unfair to minorities. Though this article is not written to point out all of those cases, trust that one would not have a hard time in finding the disparity.
This is why it is important for people to be active and vigilant in their communities. Ensuring and demanding for actions that better serve their families and communities by way of voting and electing those that represent the "face" of the community and have a positive interest in it's welfare.
These steps can easily tip the scale of justice, forcing changes in the current climate of the Nation's racial and judicial injustices.
This is highlighted by the actions of a Louisville, Ky. Jefferson Circuit Court Judge; Olu Stevens.
Judge Stevens was displeased with the disproportionate number of black jurors serving in his court.
Last week, the proceedings of a drug trial were halted and the entire jury panel was dismissed. Jdg. Stevens called for a new jury group to be selected.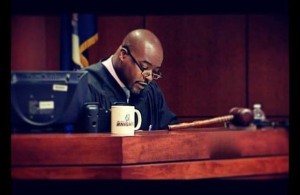 Judge Stevens expressed,
"The concern is that the panel is not representative of the community."
A new jury panel followed despite objections from both the defense and prosecutor.
This would not be Jdg. Stevens first time dismissing a jury because of it's "misrepresentation" or disproportionate number of minorities.
These actions have solicited the involvement of the Supreme Court, where it is going to determine whether the judge is abusing his power.
On Nov. 18th 2014, Jdg. Stevens felt it was, "troublesome", that a 13-member jury chosen for a theft trial ended up with no black jurors. He would dismiss the panel at the request of a defense attorney.
Judge Stevens shared,
"There is not a single African-American on this jury and (the defendant) is an African-American man, I cannot in good conscious go forward with this jury."
The next day a new jury panel was selected.
"Jefferson County has long had a problem with minorities being underrepresented on local juries. Several black defendants have complained over the years that they were convicted by an all-white jury – not of their peers.
The Racial Fairness commission – a group made up of local judges, lawyers and citizens – has studied the issue for years, monitored the make-up of jury panels and found them consistently lacking in minorities."
As Appeals Court Judge, Denise Clayton, explains,
"Based on population the panel should be at least 21 percent African-American".
Jdg. Clayton continues, sharing a previous panel selection case (October 12, 2015), where the percentage was 14.
"So we're not really hitting the numbers that we need to…", concluded Clayton
Jdg. Stevens, rightfully, has shaken the courts and is forcing attorneys to be responsible.
In an interesting fashion, Jefferson County Commonwealth's Attorney's Office and Attorney General asked the Kentucky Supreme Court to look at the issue and see if Jdg. Stevens has the authority to dismiss jury panels "because of a lack of minorities".
Should judges take it upon themselves to try and ensure a more representative jury?
WHAT ARE YOUR THOUGHTS?