Do you remember the incident that took place on July 09th, 2014, where Seattle resident; 69 year old, William Wingate was arrested by Seattle Police Officer Cynthia Whitlatch?
Well… "Police Chief Kathleen O'Toole signed off Tuesday (Sept.15th, 2015) on findings by the department's Office of Professional Accountability that Whitlatch, 48, broke the department's rules in the arrest."
Therefore she was fired.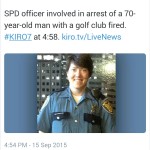 For those who have not followed this story…
SPDO Cynthia Whitlatch drove up on William Wingate, on the corner of an intersection, as he was peacefully doing nothing, using his club for support like a cane.
Whitlatch exits her cruiser immediately asking for Wingate to drop his golf club, "I am not going to take it from you but it is a weapon!", Whitlatch claims.
Wingate questions the reason for her presence and refuses to release his club for support. Whitlatch demands that he drops the club again, she continues to inform Wingate that the entire scene is being recorded and escalates the situation by, falsely, accusing Wingate of swinging his club at her, "You just swang that club at me!" An appalled Wingate objects immediately and demands that she calls for another officer, "You call somebody I want a witness".
"The white Seattle officer who arrested an African-American man she claimed swung a golf club at her was fired Tuesday for her racial bias and combative approach, the city's police chief said."
Take A Moment To Watch The Accounts On The Video Provided…
Please Share And Express Your Thoughts.